Paint on Bedliner – 5 Steps to Avoid a Mess
A paint on bed liner is an easy way to change the look of your truck. We installed a do it yourself bed liner on our truck and learned in the process. There's more involved than just slapping on some paint. Let's start at the first.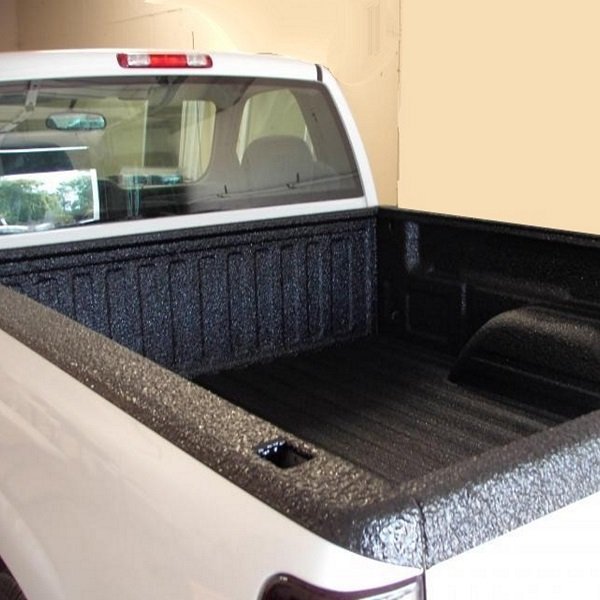 The Right Tools
You can roll on a liner or you can spray on a coating. We used a roller and you can't tell it wasn't sprayed on. Get some paint cleaner for preparation. You'll need sand paper. You'll need masking tape. You'll need rollers and some disposable brushes. Then you're ready for the paint itself bedliner.
Choosing The Paint
Truck bed paint is a polyurethane material that contains texture. Now the texture material is pieces of rubbery material. Three of the top brands of paint are Herculiner, PlastiKote and Duplicolor. We used Plasti-Kote. It sticks well and looks great. It's available in gallon cans and also spray cans. My neighbor used Herculiner. Note that Herculiner comes in several colors too, not just black.
Preparation Is Boring But Key To Success
Once you have the tools and material, the fun part starts. Any kind of painting requires careful preparation. Truck bed paint is no exception. Now this isn't hard, it just takes some time. Here's what you do.
Clean the bed with a paint cleaner solvent to start. Get the cleaner at the auto parts store. Then the paint must be scratched heavily so the coating will stick. Use coarse abrasive sandpaper to really rough up the existing finish. Then you'll wash all that residue out and let the bed dry.
Now just mask to protect areas you don't want coated and you're ready to go.
Putting It On
Now for the easy, fun part. After the preparation, the actual coating couldn't be easier. Make sure the paint is well mixed and then just roll, brush or spray it on. It's fast and easy. Start at the front and work back. Remember, the thicker the better. Putting it on truly is easy.
Finishing Touches
These coatings must cure for several days. You can use the bed in a few hours, but it isn't fully hardened for several days.
A paint on bed liner is a fast way to improve the look of a truck. It's especially right for an older truck with some bed damage. The real key to a liner that lasts is careful bed surface preparation. The actual paint application is very fast and easy. Just don't skip the prep work.